Success for healthcare leaders means staying one step ahead – of healthcare news, changes and emerging strategies. Turn to Allscripts On Call for information, insights and innovations that drive change and provoke action. In each episode, we'll highlight key challenges facing healthcare and turn to industry leaders to discuss navigating these for maximum success. Start listening today to be part of the future of healthcare. Host Cassie Khorey,
Episodes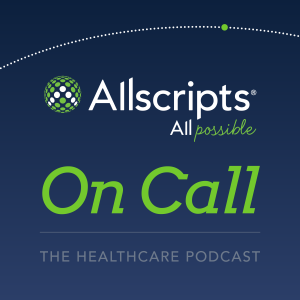 Wednesday Nov 06, 2019
Wednesday Nov 06, 2019
Technology today has the potential to deliver the best healthcare to everyone tomorrow. In this episode, Allscripts CEO Paul Black talks about what defines today's healthcare landscape. Hear about up-to-the-minute opportunities in analytics and mobile platforms, as well as challenges in privacy and industry competition and how consumer devices and data could improve patient health across populations.