Success for healthcare leaders means staying one step ahead – of healthcare news, changes and emerging strategies. Turn to Allscripts On Call for information, insights and innovations that drive change and provoke action. In each episode, we'll highlight key challenges facing healthcare and turn to industry leaders to discuss navigating these for maximum success. Start listening today to be part of the future of healthcare. Host Cassie Khorey,
Episodes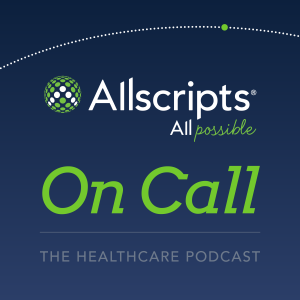 Wednesday Jan 08, 2020
Wednesday Jan 08, 2020
As healthcare moves into the next decade, patients, providers and technology partners must combine their strengths to address the challenges ahead. Molly McCarthy (National Director, US Health and Chief Nursing Officer, Microsoft) tells how Microsoft technology is powering healthcare outcomes, and how the right partnerships with both patients and organizations will continue to move healthcare in the right direction.
Recorded at ACE 2019
In episode: Microsoft Healthcare Industry Blog